Get your PPSR certificate for only $25. The PPSR Certificate will state whether or not a financial encumbrance is recorded against the vehicle or boat. If an encumbrance is recorded, the certificate will state:
The name and address of the interest holder (financier)
Details of the vehicle or boat recorded on the PPSR
The date the interest was recorded on the PPSR
The type of interest held e.g. lease, hire purchase, etc.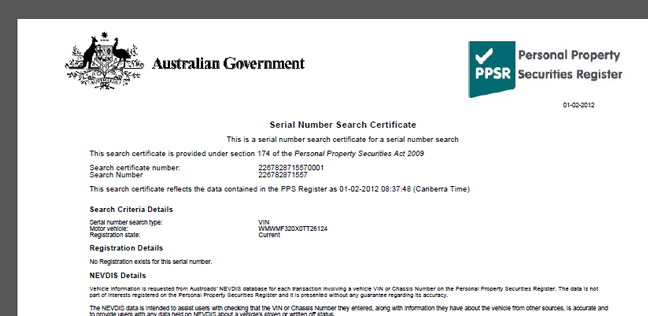 There may be other advisory information recorded about a vehicle or boat which includes the check for vehicles reported as either stolen or written off.
You should have the PPSR Certificate issued on the day of purchase. It will show all registered details to the date the certificate is issued. Keep your PPSR Certificate in a safe place as this is your proof that there was no money owing on the vehicle when you bought it.
Or upgrade to the comprehensive CarHistory Report.