How to stay safe while having a car karaoke session
How to stay safe while having a car karaoke session
Where Can I Find the VIN (Vehicle Identification Number)?

The vehicle identification number (VIN) is composed of 17 characters (digits and capital letters) that act as a unique identifier for the vehicle. A VIN displays the car's unique features, specifications and manufacturer.
The VIN can be found in a couple of places including on the car's registration label (1), on the compliance plate in the engine bay (2) or on the passenger side windshield (3), or on one of the door posts (where the door latches when it is closed) (4). See the image below:
Look for the VIN in these other locations:
Insurance card/Insurance policy
Vehicle title and registration certificate
Close
11 Sep 16
We've all been there - your favourite song comes on when you're driving and you can't help but rock out. If you're listening to the radio, you might not come across a great song all that often, but with modern audio systems and Bluetooth connectivity, you (or your friends) can control the music.
When you've just bought a second-hand car, after making sure that it's all up to standard with a CarHistory report, of course, you'll want to be out on the open road with your friends, testing it out. Road trips are a lot of fun, and there's so much to see around Australia. When you've got lots of people in the car, however, they can make the driving a little more dangerous. How can you counteract this?
How can your friends be a danger?
If you're not focused on driving, then you'll be a danger to others on the road.
Having a great time with friends is something we all crave, and it's a lot of fun to drive around with people we love spending time with. However, these friends can also be a major distraction. If you're not focused on driving, then you'll be a danger to others on the road, as well as your passengers - so you must stay alert1. That's even if it's late at night and there's nobody else on the road!
Friends can also be a risk to your driving safety if they're under the influence. You might not have been drinking, but if your friends are planning on driving home drunk, you should step in. Once they're safely in your car, however, they can act as a serious distraction to you2. Drunk people can be loud and obnoxious and not think about their actions. They might be in the back, but reach around and cover your eyes for a joke. They might be singing along to some music really loudly, meaning you can't hear what's going on around you.
These are dangerous situations that you can avoid if you set some ground rules with your friends. Make sure they know that they can't touch you when you're driving. This also cuts out the odd shove that might make you swerve out of your lane. You should also limit the volume of the music in your car, making it less likely that people will want to sing along. This doesn't have to be the case on a regular road trip, but there are certain considerations you need to take into account when there are drunk passengers in the car.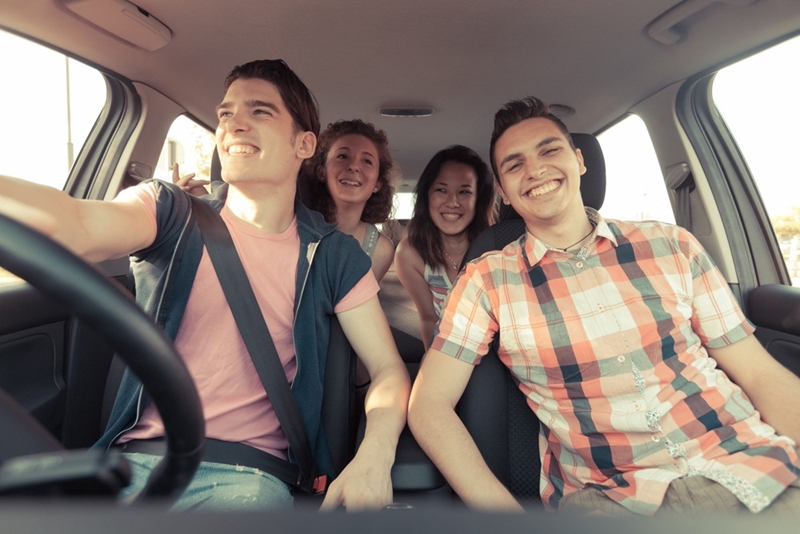 How much of a risk is your phone?

There's a reason you're told not to use your phone whilst driving. If you're concentrating on what's on your screen, you won't be alert to the risks around you. Ways to avoid using your phone when you're behind the wheel include thinking about calls or texts you need to make before you set off, and programming the GPS while you're still in your driveway so you don't have to fiddle around with it on-the-go3.

If you are constantly being distracted by your phone, you'll be less likely to follow the road rules.

If you are constantly being distracted by your phone, or your friends for that matter, you'll be less likely to follow the road rules. The major ones that could result in a collision include not following the speed limit and not keeping in your lane4. If you are going too fast, you'll have less time to react to a risk on the road. If you don't stay in your lane, you'll be a threat to oncoming traffic, or people driving beside you. They'll honk their horns, but if you have the music too loud, you might not hear them!

Staying alert behind the wheel means keeping your friends under control, and not using your phone. You can still have fun with your best mates, but make road safety your priority. To find a car that's safe and isn't a lemon, make sure you get a CarHistory report to put your mind at ease.

1. Teens Health. The Keys to Defensive Driving. Accessed November 2016.

2. NIDA for Teens. Four Tips to Avoid Drinking, Drugs, and Driving. Accessed November 2016.

3. Digital Responsibility. Safety Tips to Avoid Texting while Driving. Accessed November 2016.

4. Teen Driving. On the Road. Accessed November 2016.