What's the best way to sell your car?
What's the best way to sell your car?
Where Can I Find the VIN (Vehicle Identification Number)?

The vehicle identification number (VIN) is composed of 17 characters (digits and capital letters) that act as a unique identifier for the vehicle. A VIN displays the car's unique features, specifications and manufacturer.
The VIN can be found in a couple of places including on the car's registration label (1), on the compliance plate in the engine bay (2) or on the passenger side windshield (3), or on one of the door posts (where the door latches when it is closed) (4). See the image below:
Look for the VIN in these other locations:
Insurance card/Insurance policy
Vehicle title and registration certificate
Close
26 Oct 16
No matter how much tender love and care you put into your car, there comes a time where you seriously need an upgrade. If you wait with baited breath that it passes its safety inspection each time, this could be a telltale sign that the life of the car is coming to an end.
Other times, you may just want a new car to drive. Maybe you're ready for a fresh change, or have finally saved up to afford something flashier.
Either way, you'll need to sell your current car. Fortunately, there are many ways to do so. Check out the pros and cons of how you sell your vehicle.
Private sales
Selling your car privately is perhaps the most profitable of all the methods. However, it will require a lot of time and effort on your part.
It's up to you to determine the market value if you want to sell it at the best price possible. Any repairs needed to pass a safety inspection will also need to be carried out, just to register it. You can sell your car as unregistered, but it will lower the value.
A private sale is perhaps the most profitable way to sell your car.
Other time-consuming factors will be cosmetic changes, such as making your car's interior and exterior presentable to show it off in the best condition possible. Once your car is ready to be sold, you'll need to advertise it.
Word of mouth or through social media is probably one of the easiest ways to advertise. It may be more trustworthy to sell it to friends or family, but bear in mind it may turn tricky for you if they expect 'mates rates'.
Other forms of advertising could be local community boards, newspapers or online. Just make sure you know all the rules and regulations around local advertising in a public space, because as the RACQ explains, in many areas of Queensland, it is illegal to have a 'for sale' sign in your car while it is parked on the side of a road or footpath1.
You'll find online auction sites such as Gumtree, or even the Facebook marketplace. These places are open to a large audience, so read all the terms and conditions of each site you post your vehicle on, and check that the site is secure, as you'll be sharing private information.
Having caught the interest of potential buyers, it's up to you to organise times for them to come view it. If you're not comfortable with strangers coming to your home and test driving your vehicle, a private sale won't be a good option for you.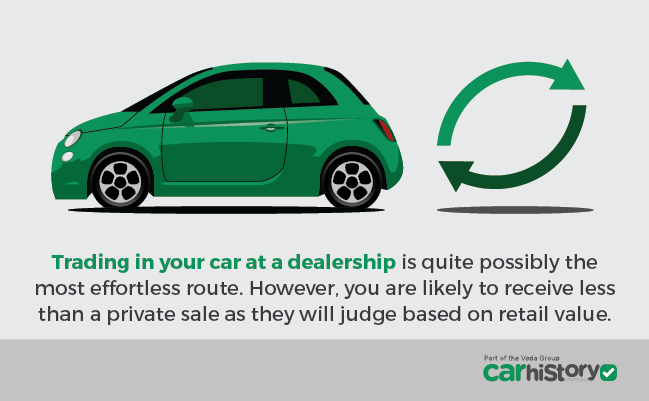 Trade-in

Trading in your car at a dealership is quite possibly the most effortless route. However, you are likely to receive less than a private sale as they will judge based on retail value.

It's convenient if you have your new car lined up with them, so after approving their appraisal, the cost of your old car will go towards your new vehicle. You just have to make up the difference. However, just because they're willing to trade with you doesn't mean you should relax on your laurels - always get a CarHistory report first on any vehicle you are seriously considering buying. This helps you to make a reasonable deal.

With trade-ins, you don't have to worry about cosmetic problems, and the dealership can also handle all the paperwork - quick and easy.

Auctions

Selling your old vehicle via an auction is a good option for cars that need a bit of work done. You may get less than what you're after, but that's because the auction house will charge fees and commissions.

However, it is somewhat hassle-free - you won't have to worry about advertising or dealing with buyers, and can sell your car as unregistered.

1RACQ, Options for selling. Accessed October, 2016.