Buying your first car: Petrol or Diesel?
Buying your first car: Petrol or Diesel?
Where Can I Find the VIN (Vehicle Identification Number)?

The vehicle identification number (VIN) is composed of 17 characters (digits and capital letters) that act as a unique identifier for the vehicle. A VIN displays the car's unique features, specifications and manufacturer.
The VIN can be found in a couple of places including on the car's registration label (1), on the compliance plate in the engine bay (2) or on the passenger side windshield (3), or on one of the door posts (where the door latches when it is closed) (4). See the image below:
Look for the VIN in these other locations:
Insurance card/Insurance policy
Vehicle title and registration certificate
Close
11 Feb 16
When buying a car, there are many aspects to consider. It's always a good idea to know what type of car you'd like before perusing a salesroom of vehicles. That way, you have the chance to do relevant research, such as a CarHistory report, before approaching the task of shopping for a used car.
One of the factors that you may consider is the type of fuel a car will use. This will either be petrol or diesel.
While the majority of cars in Australia are petrol, there is still a significant amount of diesel-fuelled cars around. Before you cut that option out of your decision, read some of the pros and cons of both types below.
What are the differences between petrol- and diesel-powered cars?
Firstly, there is a larger range of petrol cars around. The Australian Bureau of Statistics (ABS) found in the January 2015 Motor Vehicle Census that petrol-powered vehicles attributed to 77.7 per cent of the total fleet volume1.
Motoring.com.au, a car news and review website, explains the differences you'd find between the two different types of fuel consumption vehicles2.
- Smells and sounds
The smell of diesel-powered cars is typically stronger than that of petrol so keep that in mind if you're sensitive to smells.
Petrol cars are typically quieter, especially when the engines are idling. It is only in much older used vehicles that you'd find the classic rattle, which can be irritating to some, so make sure you take every vehicle you consider for a test drive. Nothing beats first-hand experience.
The smell of diesel-powered cars is also stronger than that of petrol. Although many modern cars now come equipped with filters that block these smelly odours, there is still a noticeable difference. Also, once diesel cars are operating and running at their full capacity, the smells are almost dissipated.
However, for asthmatics and those sensitive to odours, it still might be wise to opt for petrol-powered vehicles. You'll be spending time in your vehicle where you can't avoid, and can only mask these smells. Keep that in mind if you think that it could irritate you or any of your regular passengers, especially if you have young children or infants.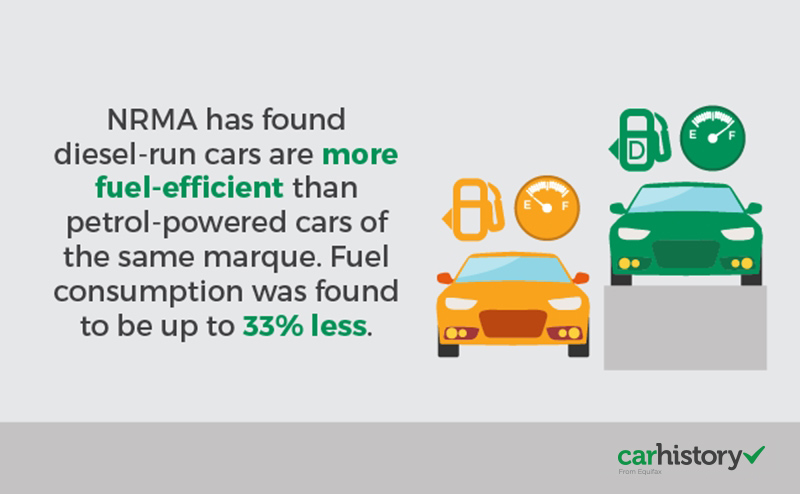 As with all other aspects, there are differences with the cost of these two types of engines. Diesel-powered cars are typically more expensive than the alternative, but prices of the fuel can be cheaper. It's also more common that larger vehicles, such as trucks and vans, run on diesel, so think about what purpose your vehicle will serve when looking for a used car.
However, a recent report by the National Roads and Motorists' Association (NRMA) has found diesel-run cars are more fuel-efficient than petrol-powered cars of the same marque. Fuel consumption was found to be up to 33 per cent less3.
The ABS found in the aforementioned census that diesel-powered models accounted for 19.7 per cent of vehicles in the poll. The number of diesel fuel vehicles registered for Australian roads also increased a significant amount over the past five years from 2010 onwards1.
Wendy Machin, the president of the NRMA, explains:
"Due to the higher purchase price of diesel models, an analysis of running costs over four years reveals little difference between petrol and diesel. With this in mind consumers' preference may come down to a vehicle's engine characteristics and performance."
It's all about research
It's been spouted multiple times already but research, research, research. Don't let any detail go unnoticed when looking at used cars. It's really down to your individual use for a vehicle and how thoroughly you research beforehand.
That's why a CarHistory report is so great. You'll not only determine what sort of fuel it runs on but also many other factors that come into play. Operation efficiency depends on many factors which a report from us can show you.
Don't compromise on quality when you're making such an important decision. Hopefully, you'll soon have a new key in your possession whether it's for a petrol- or diesel-powered car.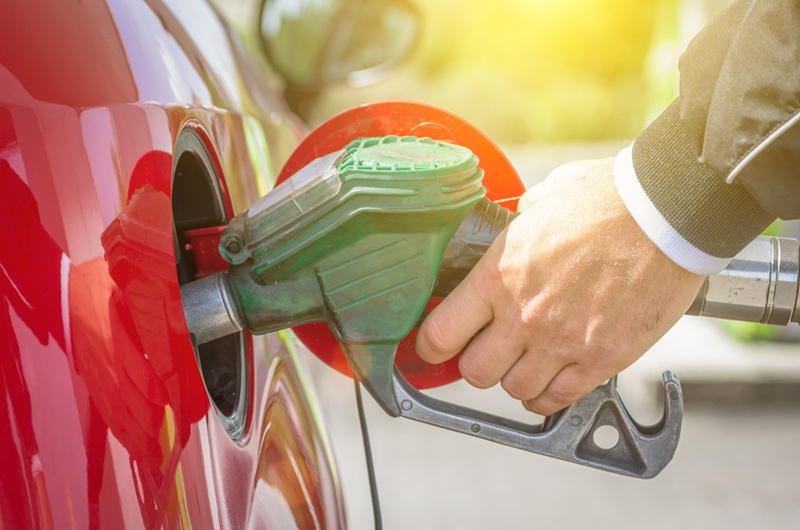 1Australian Bureau of Statistics, Motor Vehicle Census 2015. Accessed January 2015.
2Motoring, Smart buying: petrol vs diesel. Accessed January 2015.
3National Roads and Motorists' Association, Petrol vs diesel. Accessed 2015.