What does the ANCAP safety rating really mean?
What does the ANCAP safety rating really mean?
Where Can I Find the VIN (Vehicle Identification Number)?

The vehicle identification number (VIN) is composed of 17 characters (digits and capital letters) that act as a unique identifier for the vehicle. A VIN displays the car's unique features, specifications and manufacturer.
The VIN can be found in a couple of places including on the car's registration label (1), on the compliance plate in the engine bay (2) or on the passenger side windshield (3), or on one of the door posts (where the door latches when it is closed) (4). See the image below:
Look for the VIN in these other locations:
Insurance card/Insurance policy
Vehicle title and registration certificate
Close
Have you ever wondered what those stars on the Australasian New Car Assessment Program, or ANCAP, really mean? Manufacturers don't just put a car together and hope that it's going to be safe. They engineer them to do well on tests such as this, so they can take away the full five-star rating and keep drivers and passengers safe.
However, some older cars won't have ANCAP safety ratings, because the system has only been in operation since 19931. If you're buying a car that's older than that, you'll need a CarHistory report to make sure it isn't a lemon, and that it hasn't been written-off.
What do the star ratings mean?
Cars that are tested in the ANCAP can achieve a safety rating of between one and five stars2. ANCAP suggests never buying a car that does not have a five-star rating, as there will be points of vulnerability2.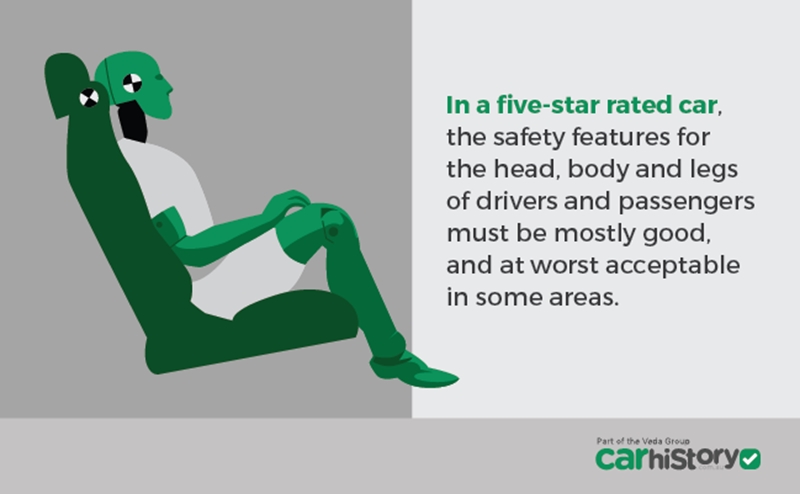 In a five-star rated car, the safety features for the head, body and legs of drivers and passengers must be mostly good, and at worst acceptable in some areas2. This means there is only a small chance of serious injury to important parts of your body in a major collision.

A four-star rated car, however, has some good safety areas, some acceptable, and some marginal2. In marginal areas, there is a moderate risk of serious injury - this can be to the head, body or legs of anyone in the car. That's not exactly something you want to be thinking about when you're driving around on the open road.

If you're buying a second-hand car, you need to know you'll be safe behind the wheel.

The next one down, the three-star rated car, is mostly marginal, which makes it unsafe in any collision2. A two-star rated car has mostly marginal areas of safety protection and some poor, which means injuries sustained in a serious collision are likely to be life-threatening2.

Finally, a one-star rated car will be mostly poor for safety of the head, body and legs - specifically, the heads of driver and front passenger will be at risk of sustaining serious injuries, likely resulting in death.

If you're buying a second-hand car, you need to know you'll be safe behind the wheel. A CarHistory report provides you with a car's ANCAP safety rating and helps you to make an informed decision about a used car you're interesting in buying. Don't settle for a car that's not going to be safe. Get in touch with our team today.

1. ANCAP. About ANCAP. Accessed December 2016.

2. ANCAP. Safety ratings explained. Accessed December 2016.