Am I going to get ripped off buying a used car?
Am I going to get ripped off buying a used car?
Where Can I Find the VIN (Vehicle Identification Number)?

The vehicle identification number (VIN) is composed of 17 characters (digits and capital letters) that act as a unique identifier for the vehicle. A VIN displays the car's unique features, specifications and manufacturer.
The VIN can be found in a couple of places including on the car's registration label (1), on the compliance plate in the engine bay (2) or on the passenger side windshield (3), or on one of the door posts (where the door latches when it is closed) (4). See the image below:
Look for the VIN in these other locations:
Insurance card/Insurance policy
Vehicle title and registration certificate
Close
12 Jan 16
When it comes to investing in expensive purchases such as a car, it pays to do your research. Many people know that used cars retain their value better than brand new models, as they aren't subject to the same rapid depreciation. However, contrary to buying a vehicle fresh off the production line, acquiring a used car can come with several caveats for prospective buyers to consider.
Unlike a new vehicle, where the owner's manual will tell you everything you need to know, the running condition of a used car can depend a lot on the previous owners, and how well they may have maintained it. While buying from a respectable dealership can offer some reassurance, you can't always be 100 per cent certain that what you see is what you'll get.
Fortunately, this is where a CarHistory report can help. We compile a comprehensive report to inform you about the things you can't always see at an in-person inspection, to help you to make the most informed decision possible. And avoid buying a lemon.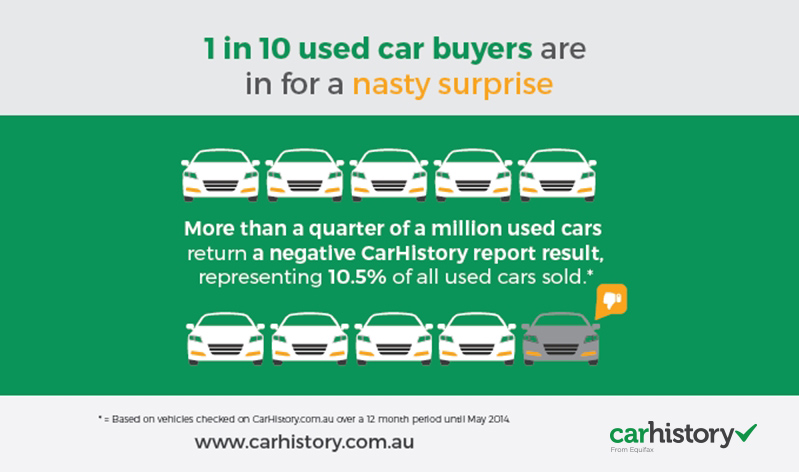 Can I be ripped off by a car dealership?

Whilst we'd like to believe this doesn't happen, the truth of the matter is that not all used car dealerships uphold outstanding morals when it comes to selling you a car. Small or independent premises may not be held to the same standards as larger, more reputable franchises, and a skilled salesman can talk many an unwary customer into buying a car before they realise what's happening.

As Scott Chesrown, an car sales expert from Vroom, tells the Business Insider; "The cars are right in front of you, it's usually a high-pressure situation, and these guys know how to sell cars. The stigma of the car dealer is still very much true in the industry."1

Is it safe to buy from a private seller?

Private sellers often list their cars through online bidding sites, with the basic specifications accompanied by a photo or two. No matter how good a bargain it seems, it's vital you do an in-person inspection and test drive of the car before you buy.

In addition, you can have extra peace of mind whether you're buying from a private seller or from dealership thanks to a CarHistory report. Inside you'll find information on any possible 'red flag' details such as odometer rollback and financial interests - the latter can mean that your car can be repossessed, due to previous debt owing on it, even after you buy it.

Why is it so important to do your research before you buy?

According to information collected from CarHistory data over a 12 month period, a total of over a quarter of a million cars returned a negative report, equating to one in every ten used vehicles sold2. Within this eye-opening figure, it was found that more than 27,000 cars had been illegally wound back2 - a tactic to deceive buyers of a car's mileage.

The majority of the cars (205,000) flagged had been previously written off, but there were also some 30,000 that had past insurance claims, both vital facts to be aware of before you sign the paperwork on your next car2.

All you need to discover more about a used car is its Vehicle Identification Number (VIN). To see what a CarHistory report can look like, download a sample report here.

1Business Insider, A former car salesman reveals 4 tricks dealers use to get you to spend. Accessed October, 2015.

2Equifax, Worst of the Worst used cars revealed.