Checklist: Buying a used car
Checklist: Buying a used car
Where Can I Find the VIN (Vehicle Identification Number)?

The vehicle identification number (VIN) is composed of 17 characters (digits and capital letters) that act as a unique identifier for the vehicle. A VIN displays the car's unique features, specifications and manufacturer.
The VIN can be found in a couple of places including on the car's registration label (1), on the compliance plate in the engine bay (2) or on the passenger side windshield (3), or on one of the door posts (where the door latches when it is closed) (4). See the image below:
Look for the VIN in these other locations:
Insurance card/Insurance policy
Vehicle title and registration certificate
Close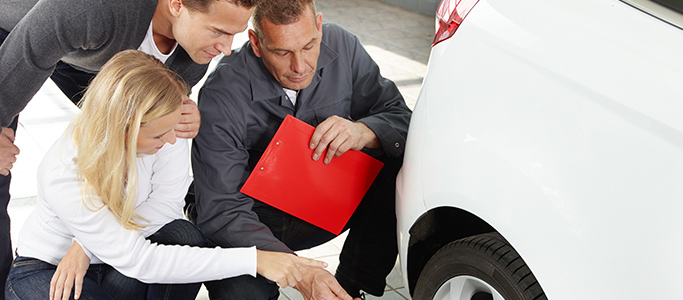 Before you hit up a car dealer or private seller, it's vital that you first finalise your buying a used car checklist. A thorough list of checks and tips will allow you to hit the ground running while at the same time minimising the risk of paying over the odds or falling foul of scams.
A lifestyle choice
Chances are a fancy convertible won't suit a growing family, while a burly 4WD may not fit an aspiring eco-warrior. Set your lifestyle limits early to weed out non-starters.
Set your budget. Then stick to it.
Once you've created a vehicle wish-list, it's time to get real. Can you afford them? That includes insurance, registration, regular maintenance and running costs.
Beware rock-bottom bargains
Remember the age-old adage 'If it seems too good to be true, it probably is'. This is particularly relevant if you're looking online for your next used vehicle purchase. Common scam stories include 'I need to sell quickly as I'm unwell', 'I've been laid off', and 'It belonged to a relative who died'. Test the seller's legitimacy by asking about payment methods. Wire transfers should raise alarm bells.
Seek expert advice
Professionals, such as your local mechanic or service centre, can highlight structural damage, rust and engine faults. According to CarHistory research, vehicles that have been written off then repaired can lose their new owner, on average, $4,116 due to loss in value and unplanned repairs.
CarHistory reports can quickly flag concerns in a vehicle's history including theft, flood damage, storm damage, write offs and doctored odometers. We source this information from industry and Government channels including: REVS. Vcheck, National Vehicle Information System, Glasses Guide, the Federal Chamber of Automotive Industries, and soon the Personal Property Securities Register.