4 Australian road rules that might catch you out
4 Australian road rules that might catch you out
Where Can I Find the VIN (Vehicle Identification Number)?

The vehicle identification number (VIN) is composed of 17 characters (digits and capital letters) that act as a unique identifier for the vehicle. A VIN displays the car's unique features, specifications and manufacturer.
The VIN can be found in a couple of places including on the car's registration label (1), on the compliance plate in the engine bay (2) or on the passenger side windshield (3), or on one of the door posts (where the door latches when it is closed) (4). See the image below:
Look for the VIN in these other locations:
Insurance card/Insurance policy
Vehicle title and registration certificate
Close
17 Nov 16
Are you a part of the 78 per cent of Australians who commute in a car each day1? Driving in Australia is a major part of life, and this information from the Department of Infrastructure and Regional Development (DIRD) confirms that. If you're new to the workforce, or driving in general, you might be thinking about getting into a new vehicle. That's great news! You'll want to make sure it's not a lemon, though. CarHistory can help you there.
Once you're on the road in your second-hand car, though, you'll want to avoid having to pay fines for silly things. The below road rules can easily catch out even the most experienced drivers, so take note and make sure you don't forget about them.
1) Taking your pet along for the ride
Having your pet in your car is fine2 - in fact, it's usually necessary for many people going to the dog park or the vet. However, your furry friend cannot be on your lap at any time. The official rule is that the animal must be on the floor and tethered at all times. This is a far safer option both for driver and pet alike.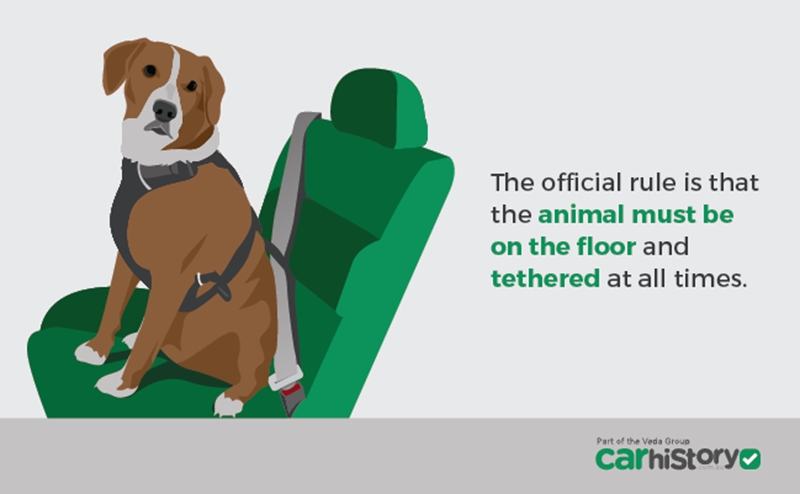 You also can't walk your animal from the car in New South Wales2. If you want to save time, go for a run with your pet on a lead, but don't put the lead in your door and drive along!
2) Check your lights
While it might be more obvious at night, driving with fog lights on is only allowed during heavy rain, dust or fog2. Driving around, even during the day, with your fog lights on in the wrong conditions is illegal, as it can impair other drivers caught in your beams.
It's also illegal to drive at night without lights on, so make sure you check your lights are in the appropriate state before you set off.
3) Lighting up your number plate
It's also vital that the bulb above your front and rear number plates is working.
On the subject of lights, it's also vital that the bulb above your front and rear number plates is working2. If it's not, you may be issued with a fine and a defect notice, meaning you need to fix your car as soon as possible2.
4) Register your car
If your car is not registered, you're at risk of being fined at all times2. This is even if you're parked on the street and haven't moved it for weeks2. It's illegal to drive an unregistered car, so finding out if the one you're looking at is legal to drive is important. A CarHistory report can shed light on this, so get in touch today.
1. Department of Infrastructure and Regional Development. Australia's commuting distance: cities and regions. Accessed November 2016.
2. NRMA. 10 road rules you have probably never heard of. Accessed November 2016.