Family-friendly features your next used car should have
Family-friendly features your next used car should have
Where Can I Find the VIN (Vehicle Identification Number)?

The vehicle identification number (VIN) is composed of 17 characters (digits and capital letters) that act as a unique identifier for the vehicle. A VIN displays the car's unique features, specifications and manufacturer.
The VIN can be found in a couple of places including on the car's registration label (1), on the compliance plate in the engine bay (2) or on the passenger side windshield (3), or on one of the door posts (where the door latches when it is closed) (4). See the image below:
Look for the VIN in these other locations:
Insurance card/Insurance policy
Vehicle title and registration certificate
Close
12 Apr 17
When you're on the road with your family in the car, you want to be as safe as possible. Your most precious cargo is sitting right next to you and in the back seats, and you don't want them to be in any danger. However, they can be the cause of that danger, in some instances. Buying a used car that cuts out any passenger distractions is a sound solution for being safer on the roads, and it could help you avoid any road collisions.
A whopping 13.5 per cent of those were caused by driver intoxication (in one of the cars involved in the fatality).
In a study conducted by Keep Your Eyes on the Road Australia, 340 fatal collisions were investigated between 2000 and 2011 in New South Wales and Victoria1. A whopping 13.5 per cent of those were caused by driver intoxication, 11.8 per cent were caused by a driver who fell asleep, and 3.2 per cent were caused by distracted drivers interacting with passengers1. For every problem, there is a solution, however.
What car safety features can help to keep your family safe?
Seatbelts and airbags are a must for any family car, but these are all legal requirements anyway2 so you won't find a car from the last 10 years that doesn't have both of these things. As we've mentioned before, you should never buy a car that doesn't have a five-star ANCAP safety rating. ABS brakes, traction control, reinforced frames and passenger safety in a collision are focuses of the ANCAP crash test, so take note of how they rate cars.
For all those times when you need to turn around to stop your kids fighting or pick something up that your screaming child has dropped, it can be difficult to drive safely. Obviously the ideal outcome would be that you pull over and sort everything out, but sometimes you might forget to do this. In that case, you'll want to make sure you stay in your lane on the road, and lane-keeping assist will help2. This system reads the road and knows where the lane ends, so if you drift out of it slightly, it will either adjust the steering wheel accordingly so you keep trucking along safely, or it will alert you to the danger and you can react appropriately.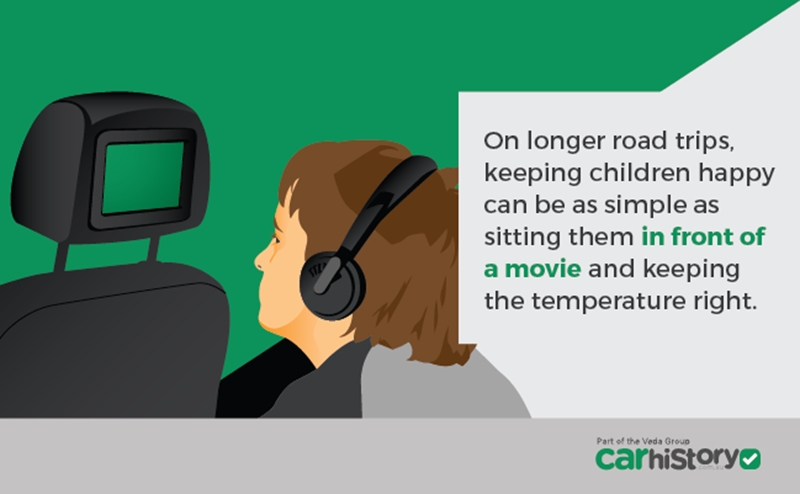 Driver fatigue warnings are common on most newer cars now too. If you drive for a few hours, the car will alert you to the danger of driving continuously for hours on end, and prompt you to pull over and take a break. It's a simple, effective safety measure to keep your family happy on the road.
Occupying your children
On longer road trips, keeping children happy can be as simple as sitting them in front of a movie and keeping the temperature right. When they're occupied, your passengers won't distract you, so you can focus on getting to your destination safely.
A built-in entertainment system could be all you need to make sure your kids are happy throughout the journey.
A built-in entertainment system could be all you need to make sure your kids are happy throughout the journey2. Screens on the back of the front seats can play a movie (or a TV series), or even a single screen in the middle of the car can keep everyone happy. Find the right film to appease all of your kids and you won't hear a peep from them for the whole trip! If you're driving for long periods of time, you might need multiple movies or TV shows, but when one ends, it'll be about time to take a break from the road anyway, so it's a safety system that works in many ways.
Finding the safest car for your needs can take some time, but consider the risks on the road (and in the car) before settling on a purchase. Get in touch with CarHistory today to find out more about the cars you're looking at.
1. Keep Your Eyes on the Road. Accident statistics. Accessed April 2017.
2. CarsGuide. Best car features for families. Accessed April 2017.